Expat Essentials Gift Vouchers
17 September 2014 | Admin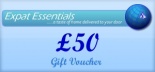 Are you stuck for gift ideas?
Expat Essentials Gift Vouchers are the perfect gift solution for your friends, family and colleagues now living abroad. Not sure what British Foods they miss most? They can browse the huge selection on the website and choose exactly what they want, whether that's some English Twinings Tea, for the perfect cuppa, or perhaps some hard to get Curry Sauces, we have it all.
Would make an ideal Christmas present and no expensive postage or lost parcels to worry about!
The range of values are from £10 up to £100, so there is something to suit everyone.