21 October 2016 | Admin

Hipp has now brought out 3 new formulas, which are available from our online shop.
1) Hipp Growing Up Milk for 2 years +
2) Hipp Anti-Reflux Milk
3) Hipp Comfort Milk
12 December 2015 | Admin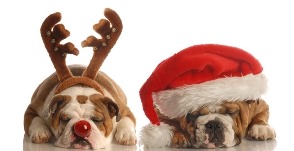 Our Christmas Shop is now closed and all of our final orders are on their way.
Our business will be closed from Wednesday 16th December until Tuesday 5th January and our online ordering is also closed for Christmas and the New Year from Sunday 13th December until Monday 4th January. You can still add items to the shopping basket and save them, but the payment and checkout facility will be disabled during this time. Once the website is back on 4th January, you can then check out your saved items in the normal way and we will be despatching again from Wednesday 6th January.
9 November 2015 | Admin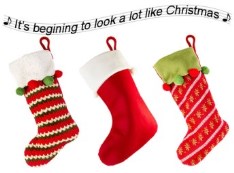 Our Christmas Shop is now open! We have a bumper range of products this year, from the all round favourites, such as Marks & Spencer Christmas Cakes and Puddings, Tubs of Cadburys Roses and Quality Street and of course, Advent Calendars and Selection Boxes for the kids.
30 April 2015 | Admin

Make a Top-Class Restaurant-Quality Curry at Home
We now have the whole range of the fabulous Anglo Indian Chef's Curry Packs in stock.
Anglo Indian Chef's unique curry base sauce enables you to create your own authentic, Indian restaurant curry sauce packed with flavour. Made with specially blended spices, freshly ground to a unique recipe. Easy to cook – all the spices are provided, you just need a few basic ingredients to create the best curry you've ever made.
28 January 2015 | Admin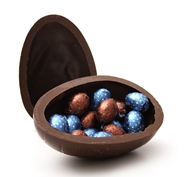 Our Easter Shop is now open! We have a bumper range of products this year, from the all round favourites, such as Cadburys Creme Eggs, Lindt Gold Bunnies and some gorgeous new Easter Eggs for kids and grown-ups.
If you're planning an Easter Hunt, we have a fabulous selection of multi packs of eggs, bunnies, chicks and even Haribo treat bags, which should keep the kids happy.
26 January 2015 | Admin

Unfortunately, the manufacturers of Aptamil and Cow & Gate have introduced buying restrictions on all of their powdered baby formulas. This means that the maximum we can purchase at any store or supplier is currently just 2 products!
We're trying very hard to keep up with demand, so that all of our Expat customers can still keep their babies on the formulas that suit them, but in order to do this, we've had to set a limit of a maximum of 6 products per customer from this range. Hopefully, this will ensure that we can still purchase enough stock for everyone.
28 November 2014 | Admin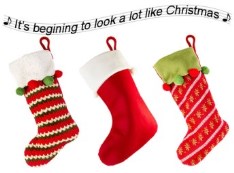 Our Christmas Shop will be closing soon, so don't miss out on your Christmas delivery.
The last order date for guaranteed Christmas delivery is Friday 5th December. Our Chilled Goods section will also close from this date, as deliveries take much longer as we go into December and we can't therefore guarantee the usual 48 hour delivery times. Please also order by 5th December if you need to receive any goods by early January, as Expat Essentials will be closed for Christmas and the New Year from Monday 15th December until Monday 5th January.
10 October 2014 | Admin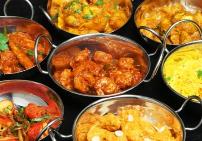 Next week is National Curry Week and to celebrate, we'd like to offer you 10% discount on all the products in the 'Curry/Indian' category. Simply enter the discount code 'curry' at the checkout and the prices will be adjusted automatically.
17 September 2014 | Admin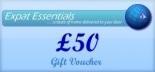 Are you stuck for gift ideas?
Expat Essentials Gift Vouchers are the perfect gift solution for your friends, family and colleagues now living abroad. Not sure what British Foods they miss most? They can browse the huge selection on the website and choose exactly what they want, whether that's some English Twinings Tea, for the perfect cuppa, or perhaps some hard to get Curry Sauces, we have it all.
28 August 2014 | Admin

Our 'Chilled Goods' section for our customers in the EU is now open again.
We've added some scrummy Pizzas and Garlic Bread to the range, which probably sounds silly to our customers in Italy, but we've been reliably informed that a lot of other European countries, don't have a great selection of these type of products available, so we hope you enjoy them.